Charter bus transportation is one of the most comfortable, stress-free means of local and long-distance travel. In addition to being safer, eco-friendlier, and more convenient than other forms of transportation, charter busses also give you the opportunity to focus on other activities for work or leisure. Below are just some of the ways you can make the most out of your journey when traveling by coach bus rental!
Catch Up on Work During Your Coach Bus Trip 
Have a work project coming up that you still need to work on? Riding by coach bus rental will give you the time and space to break out your laptop or phone and get to work.
Since there's no need to get behind the wheel, you can enjoy a comfortable ride and time to concentrate on important tasks that you may have not been able to complete before the trip.
Take Time to Relax on Your Coach Bus
There's nothing better than popping in some ear buds and enjoying a relaxing music playlist while you travel. With charter busses, you can take some much-needed time to sit back and rest while your driver worries about the roads ahead.
Whether you want to listen to music, take a nap, or play your favorite mobile game, riding by charter gives you the time to do so!
Work on Your Education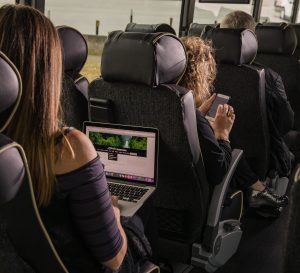 Have you been trying to learn a new language or need to study for an upcoming exam? Traveling with a premier bus company like MTRWestern will give you plenty of time to do necessary homework or brush up on a skill!
Enjoy Some Quiet Reading Time on the Coach Bus
If you enjoy a good book from time-to-time, riding via charter bus will allow you the chance to catch up on that book you've been trying to read or listen to.
Reading your favorite page-turner or listening to an audio book is a fantastic way to kill time during travel, especially on a charter bus.
Converse With Your Coach Bus Co-Passengers
The hustle and bustle of daily life can make it difficult to set time aside for catching up with friends and loved ones. Charter busses give you a chance to relax and chat with those closest to you and enjoy time together that you may not have had otherwise.
Arrange Your Goals for the Week
An extended commute will give you plenty of time to focus on upcoming tasks for the week and allows you a chance to plan how and when you'll undertake them.
With ample time to think about what you have to do; you can carefully plan out your week's to-do list without the worry of taking time away from other important work.
Do Some Light Exercise
With longer travel times, it's important to stay active in any way you can to promote circulation and prevent stiff muscles from being idle for extended periods.
While it may sound difficult to exercise while you're traveling, there are actually several exercises you can perform without ever leaving your seat. Even something as simple as calf raises can have a positive impact on your overall health during long drives.
Looking for Reliable Group Transportation?
MTRWestern is the premier bus company for charter bus travel in the PNW. With our top-of-the-line fleet of charter busses and shuttles as well as our expert crew of talented drivers and hospitality-driven business practices, MTRWestern always ensures those that ride with us enjoy the entirety of their trip from point A to B. Schedule your trip with us today or fill out our simple form online to request your quote!