A wedding is one of the most important days of a couple's new life together, so it's important to ensure the entire event from beginning to end goes off without a hitch. One of the biggest concerns when it comes to planning a wedding is transportation, especially with larger guest lists.
If you're stuck trying to figure out how your 100+ family and friends are getting to the wedding on time, a charter bus could be just what you need to ensure everyone is there to see your big day unfold without breaking your wedding budget. Below are some things to consider when renting your wedding charter bus and tips on how to make the process as smooth as possible. Keep reading for more!
Booking Times Matter
If you want to find the best price and get the right charter bus or buses booked for the wedding, timing is key. For starters, you'll want to book your charter bus as early as possible, at least a few months before the event.
Secondly, if you're looking to save money on transport, it's important to note that off-peak days of the week, Tue-Thurs, are more likely to feature reduced rates.
There Is More than One Charter Bus to Choose from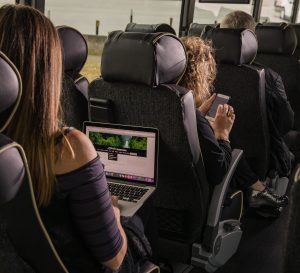 Charter buses come in a variety of sizes – meaning some buses are better equipped for larger groups than others. You'll want to ensure you know exactly how many guests will be attending the wedding in order to properly assess what you'll need transportation-wise before you book.
Additionally, some buses come with different amenities, like onboard bathrooms and WiFi, that could make the ride to the venue just a bit more relaxing for guests.
Arranging Your Timeline for Transportation Is Important
Before you start booking your charter bus, make sure you know exactly where you want the bus to take your guests on the big day. This includes any extra stops for bathroom breaks and post-wedding events that will be held off site from where the vows are exchanged.
While stops can be easily incorporated into the route, you want to ensure that this is all scheduled and timed out with your charter so as to prevent guests arriving late to the event.
Having a Designated Event Planner Is Recommended
Planning a wedding is no cake-walk, especially for a bride and groom that are already stressed trying to ensure their big day is everything they hoped it would be. For larger weddings, it's recommended that at least one person is put in charge of arranging things for the event, like transportation.
This designated planner could be a professional wedding planner or a trusted family member or friend. Whichever you choose, having someone to help organize the wedding takes a lot of stress out of the process. Just make sure that whoever is given this task understands what you need for transport and how you would like the day to unfold.
Renting a Charter for Guest Transport Can Save Money
While the popular method of guest transportation to weddings are limos or high-end car rentals, the price of renting multiple of either is going to add up, fast! Most large weddings are going to have a large guest list, so imagine how much of your wedding budget will need to be allotted just for the trip to the venue in this scenario.
Since charter buses can hold so many passengers per bus, you'll likely end up saving a good chunk of money by having your guests ride by bus rather than car rentals. Charter buses are more comfortable, spacious, and offer guests the opportunity to ride in style all the way to the venue. Additionally, using a charter bus also ensures that guests will all arrive at the same time.
You Can Arrange for Post-Wedding Transport if Needed
Depending on where the bride and groom are exchanging vows, you may need to transport guests after the wedding to another venue for all the post-wedding fun.
As previously stated, you can easily arrange for charter buses to make multiple stops throughout the day, even to a post-wedding gathering!
Need Group Transport for Your Big Day?
MTRWestern is a hospitality oriented charter bus rental service that offers transportation solutions for a wide range of events, both private and commercial. Whether it's transporting 50+ guests to a wedding venue, work event or convention – MTRWestern will ensure you enjoy an absolute top-notch experience riding with us. Call us today at (800) 975-0464 or fill out our online form to request a quote!