Does your next sports team's big game require travel? Instead of stressing how everyone is getting to the game on time, why not eliminate the worry and choose a comfortable charter bus for the trip? There are numerous benefits to renting a private charter for teams participating in out-of-town sporting events. In fact, allowing your team to travel together may even help improve their performance in the game. Keep reading to learn more on why charter bus travel is the perfect transportation solution for sports team travel below!
Customizable Travel for the Sports Team
Whether you need the largest coach bus rental available for transportation or a small bus, choosing to travel by charter allows you greater control over how you undertake your journey.
Charter busses come in a range of different sizes and feature different amenities that are incredibly useful for group travel.
Riding a Charter Bus Together Gives the Sports Team a Chance to Strategize
If you're coaching the team, using a tour bus rental will provide you the chance to discuss strategies with your team prior to the game.
Go over plans, discuss how you'll approach the opposing team, and communicate concerns with your team, all while your professional driver handles the driving.
Charter Busses Are More Efficient for Sports Team Transportation
While some choose to leave everyone responsible for their own travel to the game, riding a coach bus rental or small bus is a far more efficient way to get everyone to the event.
A private charter bus allows you to either arrange multiple pickup locations or a single gathering spot for boarding. This makes it easier to keep things organized so you don't have to worry that travel mishaps will prevent some of the team from getting to the game.
A Charter Bus Is Safer and Punctual for Sports Team Travel
When it comes to sporting events, arriving at the venue on time is priority. By choosing a charter for sports team travel, you ensure that your entire team makes it to the game on time and safely.
A Charter Bus is Better for Comfortability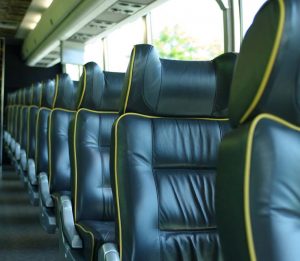 The last thing you want when traveling to the game is your sports team stuffed in cramped travel conditions that could hinder their performance later on.
Instead of risking leg cramps and other discomfort, riding by charter will ensure everyone has ample leg room and can relax in order to prepare for the event.
Provides the Opportunity to Bond as a Team
Traveling by tour bus rental together as a team provides players and coaches the chance to spend additional time together and bond as a group.
Forming friendships can really improve performance on the field, so fostering any opportunity for your team to converse, connect, and create lasting memories together is always recommended.
Need a Charter Bus Rental for Your Sports Team Travel Plans?
Whether it's a local or out-of-town event, MTRWestern is here to ensure you and your team enjoy total comfort and peace-of-mind from point A to point B.
With our extensive variety of charters and shuttles as well as our highly skilled team of drivers, MTRWestern is the prime choice for work events, private travel, and sporting event travel. If you're looking for the best way to make it to the game safely, efficiently, and on time, give us a call or fill out our form on the MTRWestern website to request your quote today!